Fire Hoses
A fire hose is a high-pressure hose that carries water or other fire retardant (such as foam) to a fire to extinguish it. Outdoors, it attaches either to a fire engine or a fire hydrant. Indoors, it can permanently attach to a building's standpipe or plumbing system.

The usual working pressure of a firehose can vary between 8 and 20 bar (800 and 2,000 kPa; 116 and 290 psi) while its bursting pressure can be up to 83 bar (8,300 k Pa; 1,204 psi).

After use, a fire hose is usually hung to dry, because standing water that remains in a hose for a long time can deteriorate the material and render it unreliable or unusable. Therefore, the typical fire station often has a high structure to accommodate the length of a hose for such preventative maintenance.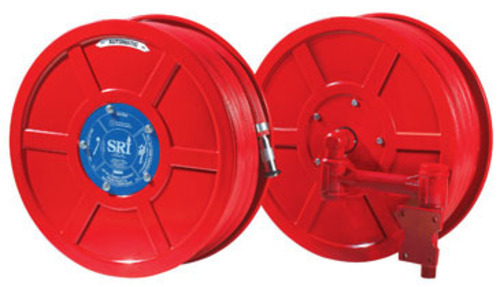 Single Jacket Fire Hose
Single jacket constructions consist of a thermoplastic or synthetic rubber liner combined with a closely woven textile "single jacket." The jacket may be a combination of cotton and polyester or 100% synthetic material.
Double Jacket Fire Hose
Double jacket constructions include a second, closely woven jacket for extra durability, safety, and higher test pressures. The jackets are matched to ensure a precision fit.
Nitrile Coated Fire Hose
Synthetic nitrile rubber provides a rugged cover for this lightweight single jacket hose intended for use in industrial environments. The deep ribbed pattern offers excellent abrasion resistance and the homogeneous heavy-duty, one-piece cover and liner construction resists heat and most chemicals.
Pin Rack Fire Hose
Pin Rack Hose is a thermoplastic lined hose intended for easy pin rack storage and maintenance. This lightweight construction is normally furnished with Underwriters Laboratories and/or Factory Mutual labels.
Covered Fire Hose
Covered fire hose in an all-polyester, single jacket hose spirally wrapped with a Neoprene or synthetic rubber outer covering. The covering gives the hose outstanding resistance to chemicals, heat, abrasion, ozone and other condition's encountered in petrochemical and other severe environments.
Hard Suction Fire Hose
Hard suction hose is manufactured for pump suction service on fire engines. Many different styles are available from conventional, corrugated, wire reinforced, etc. The outer cover is typically made of a long wearing, ozone resistant, synthetic rubber.
Booster Fire Hose
Booster hose is a high pressure hose, typically 800 PSI working pressure, with a vertical braid construction overlaid with a premium ozone resistant cover.